Detail
PHOIBOS 150 EP 1D-DLD
State of the art hemispherical energy analyzer with 1D-DLD detector for photoelectron spectroscopy measurements (XPS and UPS) in the pressure regime from UHV to elevated pressure regime (EP) up to 1 mbar.
The PHOIBOS 150 EP analyzer is an integral part of all PHOIBOS 150 NAP analysers, but in contrast to the NAP version is operating without the wide acceptance angle pre-lens. Therefore, it has 3 diferential pumping stages and can operate at pressures up to 1 mbar. The first differential pumping stage is separated from the analysis chamber by a nozzle with a customizable opening at the tip with diameters between 0.3 mm and 5 mm.
Depending on its configuration the PHOIBOS 150 EP can perform XPS und UPS measurements at pressures of up to 1 mbar. It offers full flexibility to be equipped with all available 1D and 2D detectors. The modular building concept enables the user to upgrade a PHOIBOS 150 EP to a full PHOIBOS 150 NAP analyzer by simply adding the pre-lens together with the corresponding electronics and additional differential pumping.
KEY FEATURES
Elevated working pressures up to 1 mbar depending on configuration
Upgradeable to complete PHOIBOS 150 NAP analyser including wide acceptance angle pre-lens
Up to 30° acceptance angle in angle in resolved and transmission mode
High energy and angular resolution
Working range up to 3.5 keV
Large pass energy range
3 differential pumping stages
Fast detectors with high dynamic range for fast real time data acquisition in snapshot mode
Full detector flexibility (MCD, 1D-DLD, 2D-DLD, 2D-CCD/-CMOS)
Product image
Product description
Article No.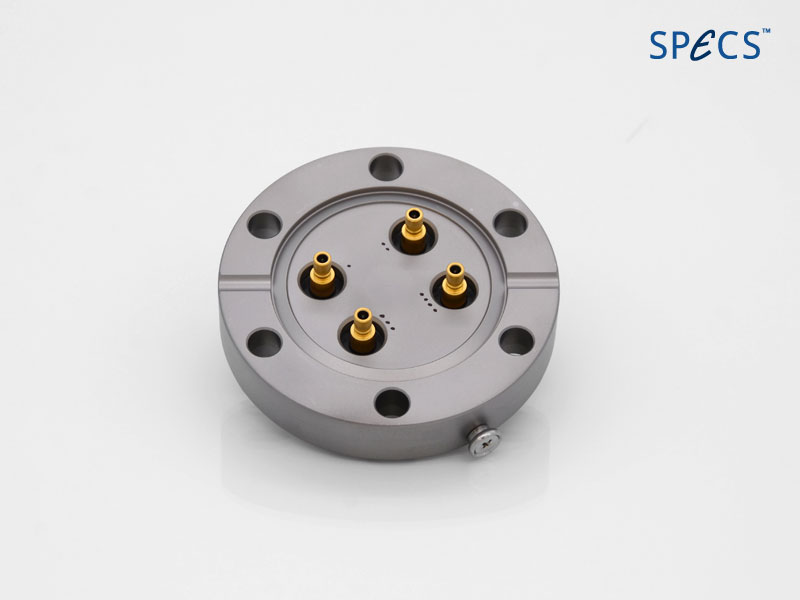 DN40CF 4-fold SMB Feedthrough for DLD

Spare electrical feedthrough for all DLD detectors. Connection flange for the ACU unit
2100011768
Rotary feedthrough for IRIS

Replacement feedthrough for PHOIBOS Release R5 & R6 iris mechanism
2060001175
Spindle with Spur and Bevel Gear for Iris

Replacement spindle for PHOIBOS Release R5 & R6 iris mechanism
2055021656