Detail
PHOIBOS 225 HV 2D-DLD
Ultra High Energy Hemispherical Energy Analyzer with 2D DLD Detector for HAXPES up tzo 15 keVwith 225 mm mean radius
The PHOIBOS 225 HV hemispherical energy analyzer is an ultra high kinetic energy analyzer solution for photoelectron spectroscopy on the material science edge. This analyzer can be operated in all relevant analysis modes, such as ARPES, XPS, UPS, as well as AES, ISS and LEISS. Its design and the modular supplementary hardware makes this analyzer the most versatile PES analyzer in the market. Its unique design allows stabe measurements up to 15 keV kinetic energy for highest XPS sensitivity in layered materials and deep core ESCA.
With a 2D DLD HV detector is shows outstanding performance in countrate, linearity and an ultrafast single event countingmechanism. It combines a state of the art lens system with a proven hemipshere design for highest transmission and kinetic energy stability. The analyzer can be operated in transmission (XPS/UPS), angular resolved (ARPES) and magnification mode (slab imaging).
The energy analyzer sectionis equipped with 8 customizable entrance and 3 exit slits. The analyzer comes with a special and highly stable power supply, the AVC 15000, for best performance in anb extreme kinetic energy range.
A classical CCD camera detection system is available on request.
KEY FEATURES
Stable High Voltage Operation up to 15 keV
Precise and Stable Power Supply
Ultra Fast HV 2D DLD Detector with Single Event Counting
Angular and Transmission Lens Modes
Snapshot and Sweeping Spectra Aquisition
Product image
Product description
Article No.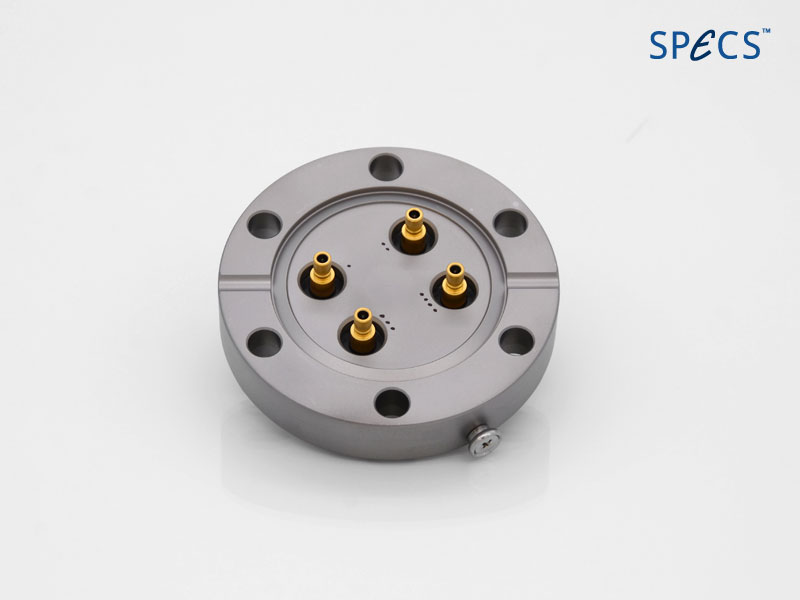 DN40CF 4-fold SMB Feedthrough for DLD

Spare electrical feedthrough for all DLD detectors. Connection flange for the ACU unit
2100011768
Cu-wiregasket PHOIBOS 225 DN700COF

PHOIBOS 225 analyzer main flange gasket. Please report SN before ordering
2060002198
Rotary feedthrough for IRIS

Replacement feedthrough for PHOIBOS Release R5 & R6 iris mechanism
2060001175
Spindle with Spur and Bevel Gear for Iris

Replacement spindle for PHOIBOS Release R5 & R6 iris mechanism
2055021656