Detail
PHOIBOS 150 HV 1D-DLD
High Voltage Energy Analyzer for HAXPES up to 7 keV
The PHOIBOS 150 HV analyzer series is the intrument of choice for high energy XPS analysis (HAXPES). High voltage power supplies and a highly stable analyzer design allow photoemission up to a kinectic energy of 7 keV, covering most of the existing X-ray light sources and synchrotron facilities.
This analyzer can be operated in high voltage mode and in additon in all relevant analysis modes, such as (M)XPS, UPS, as well as AES, ISS and LEISS. Its design and the modular supplementary hardware makes this analyzer the most versatile PES analyzer in the market. It can easily be upgraded with all available SPECS detection systems.
The integrated 1D-DLD detector is the best performing detection system available. The direct detection of electron signals yield quantitative counts per second (cps). The powerful electronics can aquire ultrafast snapshot measurements of the energy spectrum with up to 1200 energy channels as well as continous sweeping energy spectra. Its low dark count rate and high linearity make this detector outstanding for XPS analyis.
The analyzer comes with a highly stable power supply, the HSA 7000, for best performance in at high and medium kinetic energy range up to 7000 eV.
KEY FEATURES
Stable High Voltage Operation up to 7 keV
Precise and Stable Power Supply
HV 1D DLD Detector with Low Noise
Angular and Transmission Lens Modes
Product image
Product description
Article No.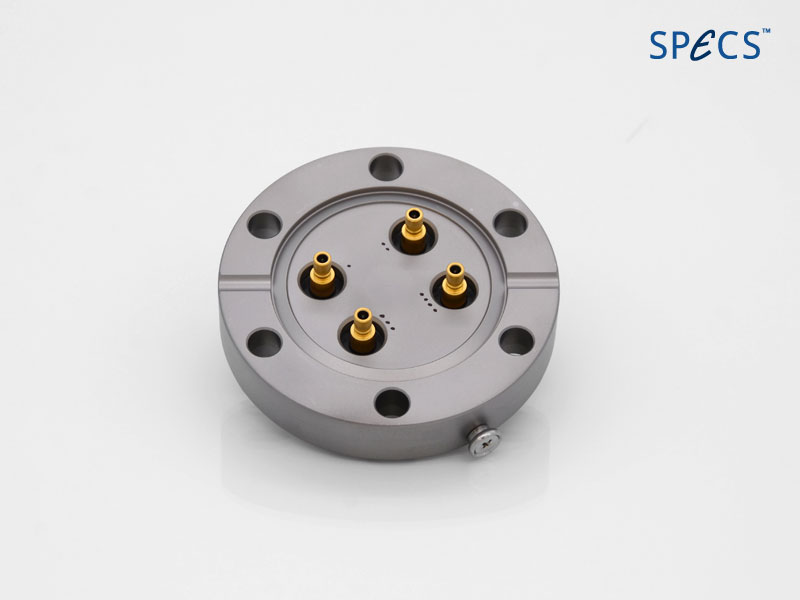 DN40CF 4-fold SMB Feedthrough for DLD

Spare electrical feedthrough for all DLD detectors. Connection flange for the ACU unit
2100011768
Rotary feedthrough for IRIS

Replacement feedthrough for PHOIBOS Release R5 & R6 iris mechanism
2060001175
Spindle with Spur and Bevel Gear for Iris

Replacement spindle for PHOIBOS Release R5 & R6 iris mechanism
2055021656